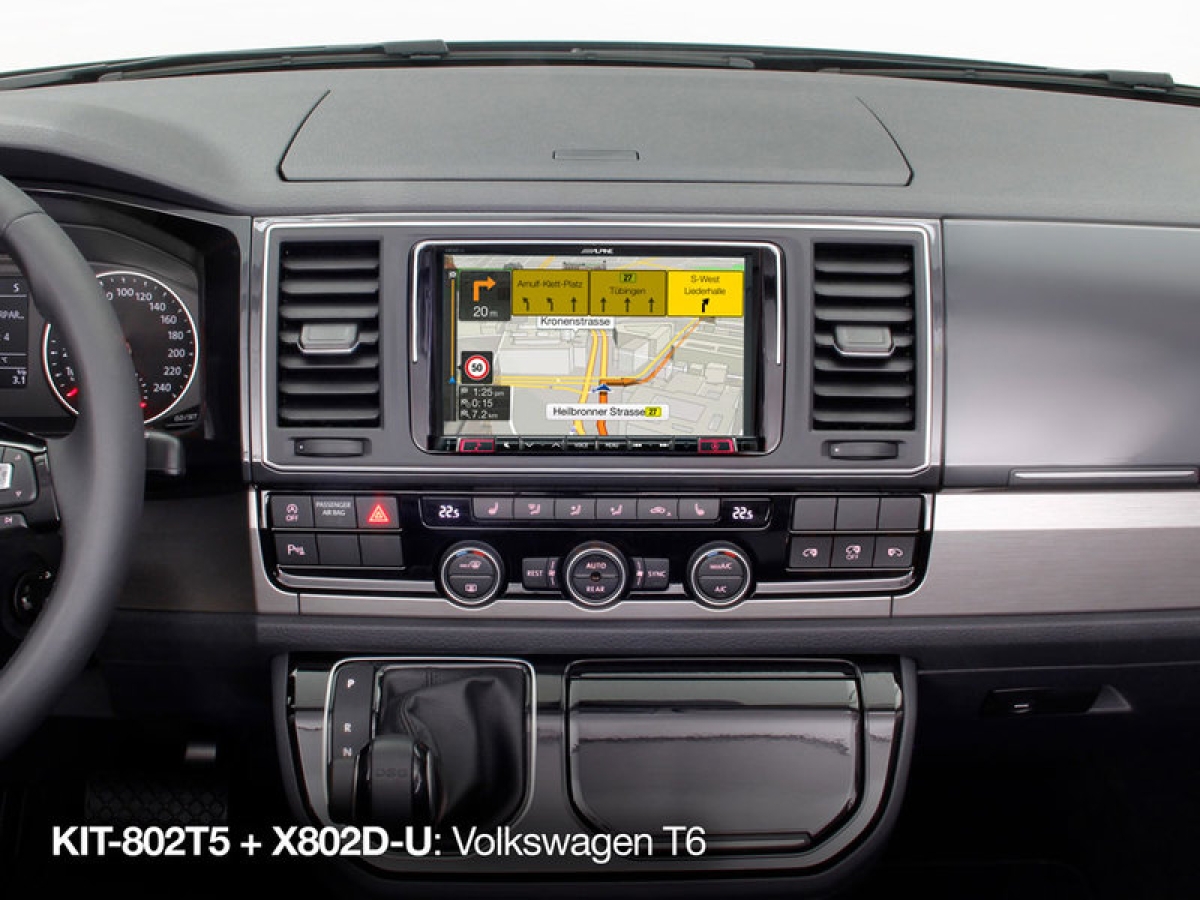 All in One Installation Kit für X802D-U / X802DC-U
T5 Facelift and T6 (7 H/E/J)
Einheit:
Stk.
CHF 249.00 inkl. CHF 17.80 MWST
Hinweis: Bitte überprüfen Sie die Gegebenheiten des Artikels mit jenen des Fahrzeuges um sicherzustellen das der Artikel passend ist.
KIT-802T5 - 8 inch Installation Kit for Volkswagen T5 Facelift and T6 (7 H/E/J)
This 8-inch installation kit for the Volkswagen T5 (7H/E/J) model year 09/2009 – 06/2015 and T6 (7H/E/J) model year 07/2016 and younger is specifically designed to overcome the challenge of the extreme flat angle of the T5 / T6 dashboard. This kit comes with all required installation parts such as wiring harness, CAN bus interface, installation brackets, antenna adapter with phantom feed, power quadlock adapter and trim panel. We even include a visor that can be easily clipped onto the trim plate to shield the Alpine display from sunlight glare, which is a common problem of the T5 / T6 due to the flat dashboard angle.
The KIT-802T5, combined with the new X802D-U / X802DC-U, offers cutting edge navigation including turn-by-turn arrow guidance in the multi-function display, paired with DAB+, Android Auto and Apple CarPlay compatibility.
General:
Compatible with VW T5 facelift and T6: Multivan, Caravelle, California, Transporter van and Transporter Box-wagon (7EA/B/F/H/J, 7HA/B/F/H/J/M/N, 7JB/E/L/Y/Z) .
Steering wheel remote control interface with CAN to analogue conversion, addition of HVAC (Heating, Ventilation and Air Conditioning) and OPS (Optical Parking Sensor) screens and SIRI support.
KIT-802T5 contents:
Installation kit for VW T5 and T6
Includes steering wheel remote control and multi-function display interface, wiring harness, installation brackets and trim plate with detachable sun visor
Includes silver trim panel to be used instead of sun visor.
Includes power quadlock adapter
Includes antenna adapter with phantom feed
Compatible Cars
| | | |
| --- | --- | --- |
| Maker1) | Model | Model year |
| Volkswagen | T5 Facelift (7 H/E/J) | 09/2009 - 06/2015 |
| Volkswagen | T6 (7 H/E/J) | 07/2016 → |
1) Small modifications to the dashboard necessary.